Macrium Reflect is a backup and backup program, which is available as a free or paid version. Now the program has been updated to version 7.2.3811 with some good changes. For the Macrium Reflect Free users the possibility to switch to the home version and back has been added.
These can then be tried out for 30 days and if the Free Version is quite sufficient, you can switch back. Another news in the Reflect 7.2 is that it offers a rescue medium with Windows Re including Wi-Fi support. WinRE supports Wi-Fi and is available on most Windows installations without any additional downloads.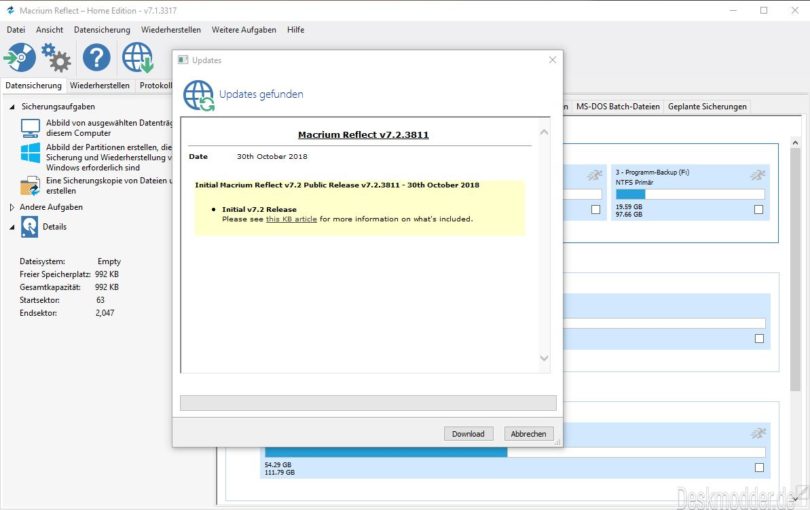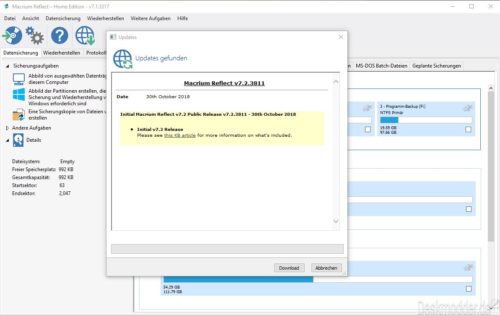 Under Settings Advanced, a new modified Block Tracker driver with support for Windows restart persistence has been added. This updates the previous version when 7.2 is installed with CBT enabled. The Macrium Image Guardian feature has also been improved. This is now available directly in the Windows kernel and no longer as a Windows service. A popup now shows if something has been blocked.
The updates for Macrium Reflect now take place in the background. An icon has been added to the taskbar (systray), which will show when an update is available. This has been done because the previous version was inefficient. Also, a new option was added, if a backup was canceled, you can now be notified by mail.
https://translate.googleusercontent.com/translate_c?depth=2&hl=en&prev=search&rurl=translate.google.com&sl=de&sp=nmt4&u=https://www.macrium.com/reflectfree&xid=25657,15700021,15700124,15700149,15700186,15700190,15700201,15700214,15700230&usg=ALkJrhjxBXyqt8PjX7BwbF7ZI8PEj8MhTA
10/30/2018